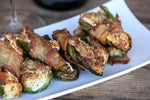 A classic appetizer with a twist. This plate of Bacon wrapped Ranch Jalapeños was gone in 1.5 seconds. It's everything you want in a bite...crunch, spice, and cream cheese!
This recipe was made with our Ranch Nut Crumbs ~ a nut-based bread crumb alternative. They are gluten-free, paleo, Keto-friendly, vegan, and delicious! To purchase a bag click here.
Ingredients:
1/2 c. Ranch Nut Crumbs
6 oz. cream cheese
10 jalapeños 
5 strips of bacon
Method:
Start by cutting the stem off the jalapeños and slicing them in half long ways. Scrape out the seeds with a spoon.
Next, you are going to add enough cream cheese to fill each jalapeño...it works out to about 1 T. in each.
Pour out the Ranch Nut Crumbs onto a plate and roll the stuffed jalapeño (cream cheese side down) in the crumbs. 
Cut each piece of bacon in half and wrap the jalapeños. 
Pop in air fryer for 15 minutes at 360 degrees. You can also grill or bake these.
We paired this yummy appetizer with one of our favorite (and affordable) wines, the Rodney Strong Russian River Pinot Noir. You can pick up a bottle of this and their other yummy varietals here. Highly recommend you throw in a Cabernet as well :)