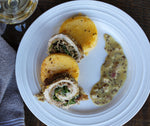 This is one of the fanciest, most delicious Nut Crumbs recipe we've ever made. Make this for date night or an intimate soiree. You will be a rockstar chef.
This recipe was made with our Original Nut Crumbs ~ a nut-based bread crumb alternative. They are gluten-free, paleo, Keto-friendly, vegan, and delicious! To purchase a bag click here.
Ingredients:
For the pork + polenta~
1/2 c. Original Nut Crumbs
2 filets of pork 
1/4 c. almond milk
1 egg
1/4 lb. brie cheese
4 slices of prosciutto
1 c. arugula
4 T. butter
1 tube of polenta
For the sauce ~ 
1 shallot
1/4 c. water
1 bullion cube
1/3 c. Rodney Strong Chalk Hill Chardonnay (You will drink the rest :)
1 heaping T. of dijon mustard
1/3 c. heavy cream
2 T. butter
Let's start with the basics. This recipe is fancy and decadent and probably the most delicious thing we've ever made. Seriously. Don't make this for a large group of people. Make this very special recipe for a date night or an intimate dinner party of 4. 
To start...place your cuts of pork in between plastic wrap and pound super thin. 
In a bowl, whisk together almond milk and egg. Pour our the Nut Crumbs on a plate.
Fully coat the pork in the egg mixture and then dredge in the Crumbs. Lay flat on a piece of parchment paper.
Cut the skin off your brie cheese and pound thin between two pieces of parchment paper. Lay flattened cheese on top of "breaded" pork chop. Cover cheese with two slices of prosciutto. Add arugula on top. Roll up pork chop and secure with toothpicks. We needed three per piece.
Place pork on baking sheet, cover in chunks of butter and bake on 350 degrees for about 25 minutes.
About 10 minutes after the pork is cooking you want to start on your sauce and polenta. 
For the polenta, slice in rounds and throw in a sauce pan of melted butter. Salt and pepper the polenta and cook on each side for about 4 minutes. 
For the sauce, dice the shallots and throw in a pan with a splash of olive oil and butter. Add salt, mustard, water, bullion, and wine and let simmer for about 5 minutes. Add heavy cream and simmer for another 2 minutes. Add cold butter and whisk, immediately taking off the heat. 
Take everything out at the same time and make a beautiful plate.
This recipe deserves to be properly paired with wine. We recommend pairing with Rodney Strong Chalk Hill Chardonnay which you can find here. Rodney Strong is our go-to (affordable) delicious wine from Sonoma. It's everything you want in a classic Chardonnay. It perfectly compliments the pork, prosciutto, and dijon mustard sauce, enhancing the main course absolutely in the best way. Enjoy friends!