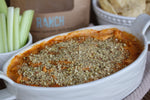 Holy Moly. This dip is unlike any other. It's everything you want to dunk whatever vessel you have into. Creamy, spicy, tangy, and beyond delicious! It's also really easy, keto-friendly, and gluten free!
Ingredients:
1/4 c. Ranch Nut Crumbs
2 chicken breasts
3/4c. buffalo sauce
1T. butter (optional)
1/4 c. parmesan cheese
1/4 c. shredded cheddar or Mexican blend cheese
1/4 c. buttermilk ranch
There are a few ways to make the chicken. We used our Instant Pot, cooking on high pressure for 10 minutes, letting release naturally for 5. You can also bake or crockpot your chicken. Regardless how you do it, drench chicken breasts in 1/2 c. of buffalo sauce and cook low and slow (30-40 min at 250 degrees in the oven, 3 hrs on high in crock pot) or pressure cook so that you can pull the chicken when it's done.
Once chicken is cooked, remove from instant pot and turn on the sauce function to reduce the buffalo sauce. If you've cooked in the crock pot or oven, transfer the cooking juices to a sauce pan and turn the heat up to med/high. Add the butter and additional buffalo sauce and let reduce for about 5 minutes.
Pull chicken into small pieces, using a fork.
In a baking dish mix the chicken, cheeses, ranch, and reduced buffalo sauce. Mix thoroughly and cover in Ranch Nut Crumbs.
Bake in a 350 degrees oven for 15 minutes and serve with your favorite dipping vessel! We recommend carrots, celery, or good old fashioned chips :)