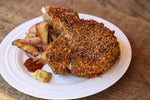 This dish is juicy, delicious, and decadent.
This recipe was made with our Barbecue Nut Crumbs ~ a nut-based bread crumb alternative. They are gluten-free, paleo, Keto-friendly, vegan, and delicious! To purchase a bag click here.
Ingredients:
2 bone-in pork chops
1/2 c.
Barbecue Nut Crumbs
2 T. BBQ sauce
1/4 c. milk
1 egg
4 T. butter
2 apples
1/2 white onion
salt & pepper to taste
For this recipe we used really big bone-in pork chops. If you are using thin ones, or pork chops without the bone, your cooking time will be reduced.
Whisk together milk, egg, and BBQ sauce in a large bowl.
Pour out Barbecue Nut Crumbs on a plate.
Grab the pork chop by the bone and dunk in the egg wash and then fully coat in Nut Crumbs on all sides. 
If cooking in an air fryer (which is how we cooked this beauty) place the coated pork chop in the basket and put 1 T. of butter on top of each piece. Select the chop option (360 degrees) and cook for about 22 minutes, depending on the thickness of the chop. This pork chop was very thick. Meat also takes longer to cook when the bone is in.
You can also sear both sides in a sauté pan with butter and olive oil (about 2 min on each side) and then place entire pan in a 350 degrees oven for about 15 minutes to finish cooking.
Lastly you can bake the chops. Place them on a baking sheet lined with parchment paper. Top each chop with 1T of butter and bake at 350 degrees for about 25 minutes.
While the pork chop is cooking, grab a sauté pan (use a cast iron skillet if you have one) and add the remaining 2 T. of butter to it along side sliced apples and onion.
Cook the onions and apples down until caramelized. This will take about the same time it takes for the pork chop to cook.
Serve the pork chop over the apples and onions along with a nice spicy mustard or more BBQ sauce and dig in!