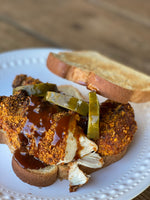 The perfect fried chicken sandwich. It's everything you want in a fried chicken sandwich without the guilt. This recipe is fully customizable to make it keto, gluten-free etc. depending on what sauce and bread you choose. Have fun with it and enjoy!
This recipe was made with our Barbecue Nut Crumbs, but every Nut Crumbs flavor is just perfect on these! Nut Crumbs are gluten-free, paleo, Keto-friendly, vegan, and delicious! To purchase a bag click here.
Ingredients:
1 c. Barbecue Nut Crumbs
1 lb chicken breasts (or boneless thighs)
1/2 c. almond milk
2 T. bbq sauce (plus more for dressing)
1 egg
bread slices of your choice
sliced pickles
Start by using your favorite cut of chicken, trim, and pound with meat tenderizer until desired thickness. We prefer chicken breasts, sliced into smaller pieces although depending on your mood a boneless chicken thigh would be delicious in this recipe!
In a small bowl add the egg, bbq sauce, and almond milk and whisk together.
Pour out Nut Crumbs on a plate and one by one…dredge the chicken pieces until thoroughly coated in the milk mixture, then the crumbs. We find it works best to use a fork to flip the chicken.
Stove/Oven Cooking:
Preheat the oven to 350 degrees. 
In a skillet add the EVOO and grass-fed butter. Heat to medium/hot temp and add chicken. Cook 2-3 minutes on one side and flip, cooking for an additional 2-3 minutes. Remove from pan and place on baking sheet. Place in hot oven for 10 minutes or until chicken is cooked through.
If you want to skip the butter and oil you can just bake at 350 degrees for 15-20 minutes. They will be crispier if fried :)
Air Fryer:
370 degrees for 12-17 minutes depending on tender thickness
Prep your bread to your liking - we would use homemade sourdough bread toasted with butter. Assemble your sandwich with sliced pickles and more bbq sauce and enjoy!
Forgo the bread and just serve up with your favorite dipping sauce!