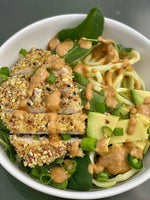 Looking to get creative with your meal prep? This here is the dish. It's easy to make, has lots of greens, and is amazingly tasty.
This recipe was made with our Everything Nut Crumbs ~ a nut-based bread crumb alternative. They are gluten-free, paleo, Keto-friendly, vegan, and delicious! To purchase a bag click here.
Ingredients: (Makes 4 bowls)
1/2 c. Everything Nut Crumbs
1 lb. chicken breasts (sliced in half and pounded thin)
1 egg
1/2 c. almond milk
1/4 c. green onion
4 zucchinis spiraled
2 jalapeños
1 c. edamame pods
1/4 c. fresh mint leaves
1/4 c. fresh basil leaves
1 T. sesame seeds
2 avocados
A handful of spring mix for each bowl
For the sauce:
8 T. coconut aminos
8 T. rice vinegar
8 T. peanut butter (can sub with almond butter or cashew butter)
1/4 c. coconut milk
4 t. sesame oil
8 garlic cloves (4-6 if you aren't a garlic freak :)
1/2 in. piece of ginger grated
1 T. chili flakes
Method:
Start by using your favorite cut of chicken, trim, and pound with meat tenderizer until desired thickness. We like to use chicken breasts. We butterfly them, pound them out thin, then cut to appropriate portion sizes.
Whisk eggs and almond milk together in large bowl. 
Place chicken in the egg mixture.
Pour out Nut Crumbs on a plate…dredge the chicken until thoroughly coated. 
Stove/Oven Cooking:
Preheat the oven to 350 degrees. Bake at 350 degrees for 15-20 minutes on a baking sheet. 
You may also cook the chicken in the air fryer.
Air Fryer:
370 degrees for 12-17 minutes depending on tender thickness
While the chicken is cooking. Spiralize the zucchini and dice the avocados and jalapeños. Chop up the green onion, basil, and garlic into thin strips. Feel free to get creative and add all your favorite ingredients to the bowl - the more the merrier!
Add all the sauce ingredients into a vitamin or food processor and blend until smooth. 
When everything is cooked, plate in a bowl by putting the zucchini down first, top with your greens, veggies and herbs and then the chicken, drizzle with the peanut vinaigrette, and sprinkle with sesame seeds.
If you're using for meal prep, wait for the chicken to cool a bit before adding to the top of the greens and hold off on dicing the avocado until the day of, so it doesn't go brown. Also, use a soufflé cup to put the vinaigrette in so that you can add it when you are ready to eat.
Enjoy!