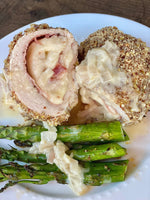 We've been thinking about making this dish for quite some time now...and quite frankly, can't believe we didn't do so sooner! It was so easy to make, absolutely delicious to eat, and looks super fancy :)
This recipe was made with our Original Nut Crumbs ~ a nut-based bread crumb alternative. They are gluten-free, paleo, Keto-friendly, vegan, and delicious! To purchase a bag click here.
Ingredients:
4 chicken breasts 
4 slices jambon (fancy ham or prosciutto)
8 slices provolone cheese (feel free to sub out with another cheese)
1/2 c. shredded parmesan cheese
1/4 c. milk (you can use almond milk as well)
1 egg
1 c. Original Nut Crumbs (Other flavors would be great too!)
For the sauce:
1 shallot
1/4 c. water
1 bullion cube
1/3 c. dry white wine
1 heaping T. of dijon mustard (we used Sir Kensington's)
1/3 c. heavy cream
2 T. butter
Start out by placing your chicken breasts in between two pieces of waxed paper or plastic wrap. Pound with a meat tenderizer until thin, but don't overdo it, as you don't want the chicken falling a part.
Salt & pepper the chicken a bit and then place your jambon (ham or prosciutto) slice on top followed by two slices of cheese on each piece. We chose provolone and added some parmesan for an additional pop in flavor, but pro tip - use your favorite cheese! It will make this dish taste even better :)
Roll each piece up, tightly, using your hands and wrap in a clean piece of plastic wrap. Place in fridge for at least 1/2 an hour (you can also freeze if you want to make a bunch ahead of time.) This will help the chicken keep it's shape when cooking.
Preheat your oven to 400 degrees.
In a small bowl, whisk together milk and egg.
Pour Original Nut Crumbs out onto a plate. (Pssst....all Nut Crumbs flavors would be delicious in this dish...the combinations of cheese, cured meats, and Nut Crumbs are endless: think BBQ Nut Crumbs, blue cheese, and pepperoni, Italian Nut Crumbs, mozzarella, soppressata...you get the point :)
Carefully unwrap the chicken, being sure to keep it in it's burrito like shape. 
Dunk each piece into the egg wash then roll in the Nut Crumbs until fully coated. Place on a lined or sprayed baking sheet. We add a little avocado or olive oil spray to the top of the chicken before placing in the oven - it helps the crumbs crisp up a bit more.
Pop the baking sheet into the fully heated oven and bake for 30 minutes.
At about the 15 minute baking point you will want to start your sauce.
For the sauce, dice the shallots and throw in a pan with a splash of olive oil and butter. Add salt, mustard, water, bullion, and wine and let simmer for about 5 minutes. Add heavy cream and simmer for another 2 minutes. Remove the pan from the heat. Add cold butter (pro tip - gently roll cold cubes of butter in flour before adding - it will make the sauce nice and thick) and whisk, immediately. Do not return the sauce pan to the heat, as the butter will separate. The sauce is ready to serve now.
Take your chicken out of the over and slice in half if you're trying to plate fancy.
Serve up with a nice green veggie and just about anything else (potatoes, risotto, polenta) and cover in your sauce. 
Enjoy :)