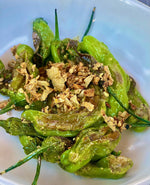 This super simple recipe also happens to be really healthy and insanely delicious! It makes a great weeknight snack or party pleasing appetizer.
This recipe would be delicious with our Lemon Pepper, Spicy, or Original Nut Crumbs ~ a nut-based bread crumb alternative. They are gluten-free, paleo, Keto-friendly, vegan, and delicious! To purchase a bag click here.
Ingredients:
1/2 lb. shishito or padron peppers
2 garlic gloves chopped or minced
1/4 c. Lemon Pepper Nut Crumbs
2 T olive oil
salt & pepper to taste
We love shishito peppers! On a recent trip to our local farmers market they were in abundance, so naturally we bought a whole bunch and have been making these on repeat. Padron peppers are also delicious for this recipe (they call them the Russian roulette pepper because you never know when you're going to get a really spicy one) but they are a bit harder to find. If you ever do come across them, snag them up!
Start by heating up your oil in a cast iron skillet. You want the oil to be at a medium/high heat when you throw the peppers in. Make sure each pepper has some surface space, because you want the pepper to sit on each side long enough to blister...this will take a couple of minutes. Once blistered, turn over with metal tongs and get a good blister on the other side. 

Half way through the second side, turn down the heat to low. Give the pan a minute or two to "cool down" and add in your garlic, Lemon Pepper Nut Crumbs, and salt and pepper. You don't want to add your garlic too early, because if it burns, it ruins the dish. Toss the peppers around in the garlic and Nut Crumbs for another minute and then remove from the heat and add all the yumminess to a bowl for serving.

If you want to make these extra special - add some shredded parmesan cheese on top after plated (this is especially yummy if you make the same dish but with Italian Nut Crumbs.)

These are super yummy and make a great healthy snack!

Enjoy :)