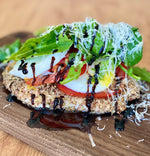 Baked Chicken Milanese is a classic dish made with breaded chicken cutlets, arugula, tomatoes and balsamic. It's absolutely delicious and an east-coast staple. We made a healthier version using Italian Nut Crumbs and fresh grated parmesan cheese that came out perfecto! 

This recipe was made with our Italian Nut Crumbs. Nut Crumbs are gluten-free, paleo, Keto-friendly, vegan, and delicious! To purchase a bag click here.

Ingredients to make 4 Sandwiches:


1 c. Italian Nut Crumbs
3/4 c. shredded parmesan cheese
1 lb chicken breasts
1 c. arugula lettuce 
1 mozzarella cheese log 
1 ripe tomato
1/2 c. almond milk
1 egg
balsamic glaze
olive oil - we used basil from Pasolivo
salt and pepper to taste

Start by prepping your chicken. Trim and pound with meat tenderizer until desired thickness. Sprinkle with some salt and pepper.

Whisk eggs and almond milk (or regular milk) together in large bowl.

Pour 1 c. of Nut Crumbs on a plate and add 1/2 c. of parmesan cheese (we'll use the rest to top it off) and mix together with your hands.

Fully coat chicken in the egg/milk mixture and then dredge the chicken in the Nut Crumbs mixture until fully coated on both sides.

We think the air fryer is the perfect cooking method for this dish. Place the chicken in the air fryer basket and cook at 400 degrees for 10 minutes. If you don't have an air fryer, then feel free to cook in the oven or on the stovetop.

Stove/Oven Cooking:

In a skillet add olive oil. Heat to medium/hot temp and add chicken. Cook 3-4 minutes on one side and flip, cooking for an additional 2-3 minutes. Remove from pan and place on a cooling rack - cover in foil and let rest for 5 minutes.

You can also just bake at 400 degrees for 15 minutes.

Slice the tomato and mozzarella cheese and lightly salt.
Once the chicken is done, place a piece on a plate, top with alternating tomato and cheese slices and cover with a bit of arugula. Drizzle with olive oil and balsamic glaze and top with some parmesan cheese. Bust out your fork and knife and dig in! 

This dish is perfect (and beautiful) served family style on a platter. It's also delicious served on a toasted baguette, as a sandwich :)