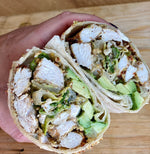 The classic Caesar salad is having a moment and we are here for it! Our Lemon Pepper parmesan cheese version is to die for. This chicken Caesar sandwich is everything you want. It's cheesy, garlicy, crunchy and delicious! Serve it up on your favorite bread or a low carb wrap (or just as a salad) either way...you can't go wrong.
This recipe was made with our Lemon Pepper Nut Crumbs. Nut Crumbs are gluten-free, paleo, Keto-friendly, vegan, and delicious! To purchase a bag click here.
Ingredients to make 4 Sandwiches:
1 1/2 c. Lemon Pepper Nut Crumbs
1 c. Shredded Parmesan Cheese
1 lb Chicken Breasts
1 head romaine lettuce
1/3 c. Caesar dressing
4 hoagie rolls (or low carb wraps)
1/2 c. almond milk
1 egg
1 avocado (optional)
olive oil - for hoagie rolls
salt and pepper to taste
Start by prepping your chicken. Trim and pound with meat tenderizer until desired thickness. Sprinkle with some salt and pepper. 
Whisk eggs and almond milk (or regular milk) together in large bowl. 
Pour 1 c. of Nut Crumbs on a plate and add 1/2 c. of parmesan cheese (we'll use the rest in the salad) and mix together with your hands.
Fully coat chicken in the egg/milk mixture and then dredge the chicken in the Nut Crumbs mixture until fully coated on both sides.
We think the air fryer is the perfect cooking method for this dish. Place the chicken in the air fryer basket and cook at 400 degrees for 10 minutes. If you don't have an air fryer, then feel free to cook in the oven or on the stovetop.
Stove/Oven Cooking:
In a skillet add olive oil. Heat to medium/hot temp and add chicken. Cook 3-4 minutes on one side and flip, cooking for an additional 2-3 minutes. Remove from pan and place on a cooling rack - cover in foil and let rest for 5 minutes.
You can also just bake at 400 degrees for 15 minutes. 
While the chicken is cooking, you will need to assemble the salad. Wash and chop your lettuce and add the remaining Nut Crumbs and parmesan cheese. Coat with the Caesar dressing and toss.
Once you have all your elements, it's time to assemble! If your making this into a sandwich, place the bread (drizzled in a bit of olive oil) or the wrap in the warm oven for a minute or two to get a little toast on it. 
To assemble on a hoagie roll - simply place the chicken breast and cover with a generous portion of the Caesar salad. You can add some extra Caesar dressing onto the sandwich if you wish.
To assemble in a wrap you can dice the chicken before adding to the wrap. We highly recommend adding some sliced avocado as well.
Serve up while the chicken is still hot and enjoy!
If you are going fully no carb - serve this delicious chicken over the salad. Add some tomatoes, cucumbers and whatever else you like in your salad and enjoy!