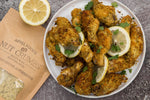 Try a healthier spin on chicken wings at your next tailgate! Packed with the lemon-ginger punch of ACTIVATE Daily Jumpstart and Coconut Curry Nut Crumbs, these baked gluten-free wings deliver big, bold flavor that will have everyone at the party asking for the recipe.
This recipe was developed in partnership with Laird Super Foods.
Prep time: 15 min
Cook time: 40 min

Servings: 6-8
INGREDIENTS
2 lbs chicken wings (or drumettes)
2/3 cup Coconut Curry Nut Crumbs
2 tbsp baking powder
1 tsp baking powder
Juice from 1/4 lemon
Salt and pepper
Optional garnish: chopped cilantro, lemon wedges
INSTRUCTIONS
Preheat oven to 450º.
Rinse wings and pat dry. Season with salt and pepper.
Combine Coconut Curry Nut Crumbs, ACTIVATE, and baking powder in a mixing bowl and mix well.
Toss wings in dry crumb mixture until well-coated.
Place wings in a single layer on baking sheet with a rack insert (so air is able to flow around the pieces).
Squeeze lemon juice over wings, then sprinkle with dry crumb mixture, reserving remaining mixture for Step 7.
Bake for 20 minutes, then turn each piece over and sprinkle remaining dry crumb mixture over each piece.
Bake for another 20 minutes. Remove and let cool.
Serve with lemon wedges and cilantro, if desired, and enjoy! 
ABOUT THE AUTHOR
SANDY EGGE
Sandy is a Naturopathic Clinical Nutritionist who now spends her working career as Director of Research and Development for Laird Superfood. She passionately believes in food as medicine, and in whole food as the foundation for good health. Sandy's previous experience has led her to advocate for and design individualized nutritional protocols to be integrated with functional medicine treatment plans. She has written numerous articles for medical advocacy groups introducing "food as medicine." When she's not at Laird Superfood developing new products, you'll find her cooking up delicious food to share with family and friends or enjoying the beautiful outdoors of Central Oregon!