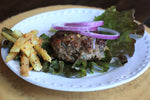 Why are burgers so delicious? This spicy bacon burger is whole30, keto, paleo and really yummy. 
Ingredients:
1/2 c. Spicy Nut Crumbs
1 lb. ground beef
1/4 onion
2 stalks of green onion
3 strips of bacon
3 T. ghee
salt and pepper
 Start off by chopping up the bacon into small pieces and dicing the onion. Add them to a skillet with a T of ghee. Sauté until bacon is partially cooked through.
Add 1/4 c. Spicy Nut Crumbs into the mix and sauté for a few more minutes to pull more flavor from the Nut Crumbs. 
In a large bowl put the ground beef, green onion, the onion mixture and the rest of the Spicy Nut Crumbs.
Mix gently with hands and form burger patties. Add the rest of the ghee to skillet and, once hot, place the patties on the skillet. Cook for 4 minutes on the one side before flipping.
Cook burger to desired temp and enjoy!