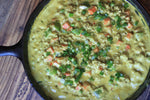 This dish right here. It's savory, creamy, comforting and just downright delicious. It's also paleo, keto, whole30 compliant, and can very easily be made vegetarian! Serve this velvety curry  in a lettuce wrap or over cauliflower rice or just spoon it right out of the skillet :) This is one of the best dishes to meal prep, because it tastes even better the next day!
Ingredients:
1/2 c. Coconut Curry Nut Crumbs
3 T. yellow curry powder
1 lb. ground turkey
2 cans of coconut milk
2 T. coconut oil
1/2 yellow onion
1 green bell pepper
1 large carrot
1 c. frozen green peas
3 stalks of green onion
salt and pepper to taste
Start out by cubing the carrot and dicing the onion and pepper. Drop 1T of coconut oil to a large skillet and add the veggies (minus the peas) and cook for 5 minutes until carrots are slightly tender.  
We used a cast iron, but a non stick skillet works perfectly fine. Remove the veggies from the skillet and place in a bowl. Add the remaining coconut oil into the skillet with the ground turkey.
Once the turkey is browned add the veggies back.
Open the two cans of coconut milk and pour them over the meat and veggies. Add the curry powder, salt and pepper and simmer on low for 5 minutes until the milk thickens and the carrots cook all the way through. Add the Coconut Curry Nut Crumbs into the mixture and cook for a few more minutes. 
Once the milk is thickens up to a velvety consistency it is done! Taste to see if it needs more curry powder or salt and pepper. Top with chopped green onions. 
Serve up over cauliflower rice or on lettuce wraps (endive lettuce works really as a vessel. If making this as a meal prep, portion out into storage containers over the cauliflower rice or pack the lettuce in a separate zip lock bag to keep crisp and fresh. Enjoy!