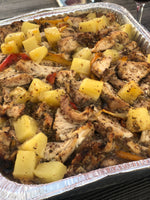 This recipe right here is one for the books. It's the perfect dish to make for a large crowd, bring a friend's house for dinner, or just devour yourself with a big glass of wine :) It's also our dear friend from Long Island (and loyal Nut Crumb's customer) Celeste's recipe!
Ingredients:
1/2 c Nut Crumbs (any flavor works in this recipe!)
1 jar Duck Sauce (linked
here)
Pineapple chunks (fresh or canned)
Start by slicing your peppers and onions extremely thin and place them on a baking sheet. Salt and pepper them and drizzle a smidge of olive oil and roast for approx 20 minutes at 350 degrees.
Take your chicken breasts and pound them thin. Do not skip this step...we want the chicken to be tender :) In a small bowl whisk together almond milk and egg. Dip chicken in egg mixture, then fully coat with Nut Crumbs. Place breasts on baking sheet and bake for 15 minutes (just under done, because they will be cooked again.)
Once chicken rests, slice in small pieces and mix together with pepper and onions in a large bowl. Add the entire jar of duck sauce and drained pineapple sauce to the bowl and mix gently. Place yumminess in a large baking dish and bake at 350 degrees until hot and bubbly (about 30 min.) Serve over rice, coconut rice, cauliflower mash or anything that will soak up the yummy sauce and enjoy!