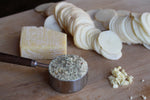 Nothing says scratch made like this creamy, delicious, homemade scalloped potato dish. Boxed potatoes are old school. Prepare to wow your guests. We used Italian Nut Crumbs ~ a nut-based bread crumb alternative. They are gluten-free, paleo, Keto-friendly, vegan, and delicious! To purchase a bag click here.
Ingredients:
2 russet potatoes
3 garlic cloves chopped fine
1/2 c. white onion chopped
1/4 c. veggie stock (or chicken)
1 C. Irish cheddar shredded (we like Dubliner)
1/4. c. cream cheese
1/2 c. Italian Nut Crumbs
1/2 lb. ground pork sausage (optional)
1/4 c. heavy whipping cream
4 T. grass fed butter
1 t. kosher salt
Start by slicing the potatoes in even slices...really thin! If you have a mandolin slicer, its highly recommended. If not...make sure your knife is really sharp :)
In a large saucepan (preferably cast iron) add the butter, onions, garlic, and a t. salt and cook on medium heat for 2 minutes or until onions are translucent. Pour in the veggie stock and let simmer for additional minute. Add cheese, heavy cream, and Italian Nut Crumbs and stir.
Cook on medium heat until sauce thickens a bit. Add sliced potatoes and fully incorporate sauce onto potatoes.
Add mixture to baking dish, add more cheese and Nut Crumbs and bake in 350 degrees oven for 30-40 minutes.
Enjoy with your favorite Thanksgiving goodies :)