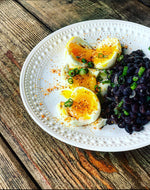 This is the ultimate breakfast that checks both healthy and comfort food boxes. Pair it with our spicy black bean recipe and enjoy!
Ingredients:
Eggs 2-4 depending on how many servings :)
Spicy Nut Crumbs
black beans (large can)
1 shallot
1/2 jalapeño
green onion
The eggs...place raw eggs in a pot and fill with water up to an inch above the egg. Turn the burner on high. Once the water starts rapidly boiling, remove pot from heat and turn a timer on for 3 1/2 minutes. Remove eggs from water immediately when the timer goes off and place in an ice water bath to cool for a minute. Peel eggs and slice open long ways. Sprinkle with Spicy Nut Crumbs and green onions.
The beans...slice up the shallot into fine pieces and jalapeño into small pieces and sauce in sauce pan with a tsp of Olive Oil (or any other fat you prefer). Salt the shallot mixture and cook down on medium heat for 3-5 minutes or until translucent. Strain the can of black beans and add to the pan. Heat until beans are hot throughout and add in some finely chopped green onion. Serve with eggs and enjoy!