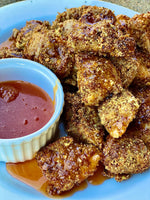 These went from a crazy craving to a delicious recipe that we will be making on repeat. It's a perfect weeknight meal and totally kid friendly. The best part - it took all of 25 minutes from start to finish. 
This recipe was made with our Original Nut Crumbs ~ a nut-based bread crumb alternative. They are gluten-free, paleo, Keto-friendly, vegan, and delicious! To purchase a bag click here.
Ingredients:
2 chicken breasts 
1/4 c. milk (you can use almond milk as well)
1 egg
2T Sriracha Sauce
2T hot honey
1/2 c. Original Nut Crumbs
For the sauce:
3T butter
1/4 c. hot honey
2T Sriracha sauce
buffalo sauce for dipping :)
Start out by dicing your chicken breasts into nugget size. Normally we recommend pounding out the chicken, but since we are cutting them up, there is no need to.
Whisk together milk, egg, honey, and Sriracha in a small bowl. Almond milk works fantastic in this recipe also. 
Pour Original Nut Crumbs out on a plate.
Dunk the chicken nuggets into the egg wash then dredge in the Nut Crumbs.
Place in at the air fryer basket and drizzle with a bit of extra honey.
Pop in an air fryer at 375 degrees for 10 minutes. If you don't have an air fryer you can fry in olive oil and butter or bake at 350 degrees for 10 minutes.
While the chicken is cooking melt the butter, honey, and Sriracha in a small sauce pan and let reduce on low heat. It will thicken up and be the perfect sauce to drizzle all over the bites :)
When the chicken is done, place the nuggets on a plate and drizzle the hot honey sauce all over. If there is any extra sauce, put in a little dish for extra dipping.
Watch the chicken bites disappear in minutes!