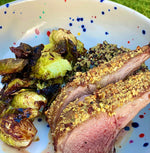 This lamb felt slightly intimidating to make but it was beyond easy and so delicious we ran back to the store to buy another rack of lamb to make it again! Make it for guests - they'll think you're fancy.
We used Lemon Pepper Nut Crumbs for this yummy recipe.
Ingredients for four people:
1 Rack of Lamb Frenched (about 8 lamb chops)
1/4 c. Lemon Pepper
2 T. Olive Oil (Lemon Garlic OO from Pasolivo is perfect)
3 T. Butter
5 Garlic Cloves
salt & pepper to taste
Important first step: Take the lamb out of the fridge about 1-2 hours before cooking and trip any excess fat.
In a food processor blend garlic, olive oil and a pinch of salt and pepper. You  can also hand blend these with a mortar and pestle. Rub the lamb thoroughly on both sides, wrap in plastic wrap and let sit on the counter for at least an hour. You want the lamb to be room temperature when it goes in the oven.
Preheat the oven to 450 degrees. Place rack of lamb meaty side down on a baking dish and cook for 15 minutes. Take the lamb out of the oven and flip over (meaty side up) then cover in Lemon Pepper Nut Crumbs. Drizzle with a tiny bit more oil and top the Nut Crumbs with pads of butter spread out. Pop back in the oven for another 10 minutes.
Take the lamb out of the oven, cover with foil and let it rest for as close to 10 minutes as you can.
Slice the lamb in between the bones and serve up with our Best Brussels Ever recipe.