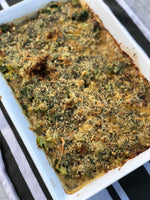 Truth be told...this is one of the best recipes we've made in a while. We can't decide if it's indulgent or healthy. We're guessing that depends on what type of culinary lifestyle you abide by! Regardless...this is a must try, whether it be for a special occasion, or for part of your weekly meal prep.
Disclaimer...these are not the BEST pictures, as we took them from our instructional videos, but we thought the more the merrier :)
Here are the ingredients:
organic frozen broccoli (2 packs)
1 block of mild cheddar
3/4 c. parmesan cheese
1/2 c. almond milk
pancetta (1 package, diced)
1/4 red onion chopped
3 green onions chopped
1/2 c. Italian Nut Crumbs
4 T. Grass fed butter
Start out by placing the frozen broccoli in a strainer and run it under warm water to defrost thoroughly.
In a saucepan add butter, chopped red onion, and pancetta. Cook over med/high heat for a few minutes until onions are translucent.
Pour pancetta into large mixing bowl and place pan back on the burner. Add diced cheese to the pan with the almond milk and cook over low heat until cheese is mostly melted.
Add Italian Nut Crumbs to cheese mixture and stir until nice and thick.
Add chopped green onion to the cheese mixture and stir.
Pour thawed broccoli and pancetta mixture into pan, mixing well before transferring into a baking dish.
Add some additional parmesan cheese and Italian Nut Crumbs to the top of the casserole.
Bake in 350 degrees oven for 15 minutes and done! Broccoli casserols is the perfect side dish to your favorite protein. We paired ours with Spot Prawns we found at our local farmer's market along with some cauliflower puree.
The best part about this dish is that it makes killer leftovers. Try it under some fried eggs and you will not be disappointed!