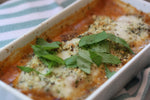 This dish right here is downright delicious AND is the easiest dish to make! A keto friendly, gluten-free version of the classic, this shrimp parm is the perfect lighter variation of the ever famous chicken parm.
This recipe was made with our Italian Nut Crumbs ~ a nut-based bread crumb alternative. They are gluten-free, paleo, Keto-friendly, vegan, and delicious! To purchase a bag click
here
.
Let's start with your grocery list...
Ingredients:
16 shrimp (frozen or fresh, raw, cleaned, and tails removed)
1/2 c. Marinara sauce (whichever kind you fancy!)
1/4 c. Parmigiana cheese
1/4 c. Fresh Mozzarella cheese
1/8 c. Fresh basil
2 T. Extra Virgin Olive Oil


So we started out with some frozen shrimp (from Costco) and defrosted them in a strainer and removed all the tails. Fresh shrimp is obviously always the best, but totally not a necessity to make this dish...don't make it hard on yourself!
If you want to look real fancy, get yourself some of these ramekins (aka smaller baking dishes.) They work great for this recipe and make each serving super special. If you are having guests over, you can prep this all ahead of time and when you serve, they will be super impressed!
Add 8 or so (depending on the size of your dish) shrimp to each dish.
Drizzle with some really good Olive Oil. We used Pasolivo's Lemon Olive Oil which you can find here. Truth be told...we added a little too much to this dish (in the pic below), and drained some out, which is a sin when you are using good Olive Oil! Just do a drizzle...we don't want it to be too oily.
Cover the shrimp with a generous helping of Italian Nut Crumbs, which you can purchase here. If you're wanting some heat, add Spicy Nut Crumbs as well!
Cover in your favorite sauce. We're not huge fans of bottled sauce, however, we used this Basilico brand sauce which you can find at Whole Foods...and it was delicious!
Slice up some fresh Mozzerella cheese  and place on top of the sauce. Sprinkle with additional parmigiana cheese.
Add another layer of the Italian Nut Crumbs, because they are just so delicious, and pop in a 350 degrees oven for 15 minutes.
First of all...your house will begin to smell INSANE in about five minutes! Secondly...it will be one of the easiest, tastiest dished you've ever made, that you will just keep making it...night after night!