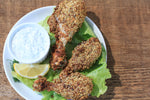 These perfectly air fried drumsticks and easy and absolutely delicious!
This recipe was made with our Lemon Pepper Nut Crumbs ~ a nut-based bread crumb alternative. They are gluten-free, paleo, Keto-friendly, vegan, and delicious! To purchase a bag click here.
Ingredients:
4 drumsticks
1/4 c. milk (or almond milk)
1 egg
1/2 c.
Lemon Pepper Nut Crumbs
avocado oil
lemon wedge
For the dip:
We used the recipe from Rachel Cooks which can be found here.
To start out, all the skin has to be removed from the drumsticks. While we love a good crispy skinned chicken, Nut Crumbs won't stick as well to the skin. 
Whisk together milk and egg in a small bowl.
Pour Lemon Pepper Nut Crumbs out on a plate.
Holding the drumstick by the "stick" dunk in the egg mixture and then fully coat in Lemon Pepper Nut Crumbs. 
Pro Tip: Any Nut Crumbs flavor would be delicious on these :)
Spray the bottom tray of the air fryer with avocado oil and place the drumsticks in the tray. Select the chick option and cook for about 15-20 minutes depending on how big the drumsticks are. The temp should be around 360 degrees in the air fryer. 
You can also bake these in a 375 degrees oven for about 30 minutes.
Squeeze some fresh lemon juice over top before eating and enjoy!