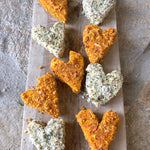 This special snack is perfect for your favorite valentine, whether big or small. It's all the deliciousness of a traditional mozzarella stick with some added Nut Crumbs flavor. 
Ingredients:
1 c. of your favorite Nut Crumbs flavor (seriously...they are all delicious in this recipe) Use Spicy if you are going for the Valentine's Day red theme :)
1 egg
1/4 c. milk (almond milk works as well)
mozzarella cheese ( the harder kind...doesn't melt as fast)
heart shaped cookie cutter (or some serious knife skills!)
Start by cutting our your mozzarella into heart shapes. Once cut, stick into the freezer for 10-15 minutes. This step is super important, as it will help the cheese hold its shape during the cooking process. 
In a small bowl, whisk together the milk and eggs. Pour Nut Crumbs on a small plate. Take the cheese hearts out of the freezer and dunk in the milk mixture, then coat in Nut Crumbs on each side. 
Heat oven to 400 degrees and place "breaded" hearts on a baking sheet. 
Now here's where it gets tricky! Every oven is different, and some are hotter than others. You MUST do a tester on this one, because if you cook for too long (like we did) your hearts will end up like this...
So test one...we recommend cooking for only 5 minutes...enough to make the cheese soft, but not totally melt them. Worth noting...even the totally ruined ones taste yummy, but they don't accomplish the look we're going for here :)
You can also do these in the air fryer!
Once tested, throw the whole batch in there and serve with your favorite marinara. Enjoy!