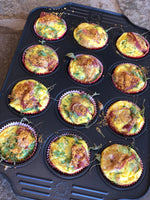 If you are looking for the perfect high protein breakfast that you can make ahead of time...this is it!
Ingredients:
10 eggs 
3 green onion stalks
2 cups of arugula
4 strips of prosciutto
1/4 c. Spicy Nut Crumbs
Start off my cracking all your eggs into a bowl and whisk together until fully scrambled. Fill a cupcake sheet with cupcake wrappers or spray with Olive Oil to prevent eggs from sticking. Using a spouted measuring cup or bowl and carefully fill each cupcake wrapper about half way with the eggs. Chop the green onion and jalapeño finely and divide evenly into each egg mixture. Add a few sprigs of arugula as well as a 2 inch piece of prosciutto to each "muffin." Finally, sprinkle Spicy Nut Crumbs onto each egg muffin and place in a 350 degrees oven for about 20 minutes.  Store in the fridge in a zip lock (with a paper towel in the zip lock to collect moisture) and when ready to heat, pop in the microwave for 45 seconds to a minute.