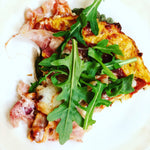 You guys, we tried this keto pizza...and were not disappointed. If you're looking for a high protein, low carb option to eating pizza...this is a must try! We got the original recipe from the Diet Doctor. She has quite a few keto recipes on her site, so go check her out! Of course we had to add some Italian Nut Crumbs as well as arugula and pancetta to ours. Here's what you'll need...
Ingredients:
8 eggs
16 oz. mozzarella cheese
6 oz. parmesan cheese
1/4 c. Italian (or Spicy) Nut Crumbs
1 c. marinara sauce
2 c. arugula
8 slices of pancetta
Begin by preheating the oven to 400°F. While that's heating up, crack your eggs into a large bowl, break the yolks with a fork, and add 12 oz of the mozzarella cheese along with the Italian Nut Crumbs. Stir together well!
Grab a baking sheet and either spray with a non-stick evoo spray or line with parchment paper. Pour out the egg/cheese mixture onto the pan and still in the oven for 15 minutes. Once you take out of the oven, increase the heat to 450°F.
Cover your "dough" with marinara sauce and sprinkle the remaining mozzerella cheese along with the parmesan cheese. Top with pancetta and bake for another 5-10 minutes, or until the crust is a nice golden brown. 
After you take the pizza out of the oven, top with arugula and serve :)