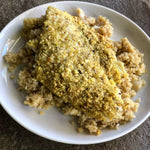 This is the dish from my childhood that I remember begging my mom to make, and she made it often. It's the ultimate comfort dish and it's so easy to make!
This recipe was made with our Original Nut Crumbs. Nut Crumbs are gluten-free, paleo, Keto-friendly, vegan, and delicious! To purchase a bag click here.
Ingredients:
1 c.
Original Nut Crumbs
1 lb
thinly sliced
chicken breasts
1/2 c.
almond milk
1
egg
2 T.
olive oil
1.5
sticks butter
3/4 c.
dry white wine
1
shallots+p to taste
Before you make this dish...you will want to think out your sides. A perfect pairing would be mashed potatoes + our Best Brussel Sprouts. Another great pairing would be quinoa + Habanero Honey Glazed carrots (psstttt....we sell the best habanero honey over at Appel Foods + Mercantile) Basically any side that's going to soak up the amazingly delicious sauce this dish creates.
Start by using thinly sliced chicken breasts. Trim and pound out with meat tenderizer until desired thickness. You might have to cut in half if the pieces are too big. They should all be uniform in size. It's ideal to only cook 4 pieces in the pan, so if you are left with more, chop them up in nugget size and make some Ranch Nut Crumbs Chicken Nuggets for the kiddos :)
Whisk eggs and almond milk (or regular milk) together in large bowl. 
Place chicken in the egg mixture. Pour out Nut Crumbs on a plate…dredge the chicken until thoroughly coated. We find it works best to use a fork to flip the chicken.
Mince up the shallot into tiny pieces.
Stovetop Cooking:
In a non-stick skillet add the olive oil, 2 T. of butter, and chopped shallot. Heat to medium temp and add chicken. Cook for 2 minutes on one side and flip, as soon as the chicken is flipped add the wine (I like to use Sauvignon Blanc) and remaining stick of butter. Cook for an additional 4-5 minutes and remove chicken, using a fork, onto plates or serving platter. If you are plating, put the chicken on top of the mashed potatoes, quinoa, rice or pasta you are serving it with...trust me, you will want this sauce on everything!
Turn the stove down to a med/low. Grab a whisk and let the sauce cook for another few minutes, whisking all the yummy bits and pieces from the pan into the sauce. Taste the sauce and add s+p as you wish. You can add some cream if you wish to make this a cream sauce, about 1/4 cup :)
Once sauce is a bit thickened, pour over the yummy chicken and enjoy!