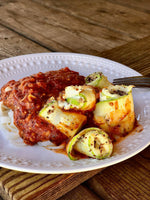 What do you do when you are craving a savory Italian dish, but it's too hot outside to go full throttle? Make this! It's light, delicious, and will impress anyone you might be feeding :) 
This recipe was made with our Italian Nut Crumbs ~ a nut-based bread crumb alternative. They are gluten-free, paleo, Keto-friendly, vegan, and delicious! To purchase a bag click here.
Ingredients:
8 oz ricotta cheese
2 zucchinis
1 jar marinara or arrabiata sauce
1 t. salt & pepper
Start by peeling the skin off the zucchini and slice very thin long ways. Slice as thin as you possibly can...it will make the rolling a lot easier! If you have a mandelin slicer...it's the best way to do this.
With a spoon, add your ricotta cheese by spreading along the whole slice of zucchini.
Sprinkle, generously, with Italian Nut Crumbs.
Add your red sauce into a large saucepan. If you are using jarred sauce there is no shame in that! You can always doctor it up with some extra garlic or basil as well.
Simmer on low for about 5 minutes.
Pre-heat your oven to 350 degrees.
Start rolling up the zucchinis and place them in the sauce next to each other. Allow to simmer for a few minutes, then transfer the entire pan to the oven. Cook at 350 degrees for 15 minutes. 
Serve over the pasta of your choice along side a nice summer salad and you've got yourself a yummy summer meal!