If there was such a thing as fall in a dish...this would be it.
---
Nut Crumbs

Tags:

fallrecipes, gluten-free, healthy, Italian Nut Crumbs, meal prep, meatball, meatballs, paleo, pork, turkey, whole30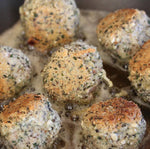 This recipe was made with our Italian Nut Crumbs, a nut-based bread crumb alternative. They are gluten-free, paleo, Keto-friendly, vegan, and delicious!