Pork can be one of the yummiest cuts of meat to cook. Especially when covered with Nut Crumbs! This is a super simple recipe that is great for busy week nights and meal prep. 
---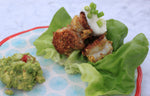 So it's Taco Tuesday, and you are CRAVING the perfect fried shrimp taco, but then you just remembered...you're eating clean. What do you do? You make these bad boys! Here is your shopping list... Ingredients Original Nut Crumbs  Shrimp Almond Milk Eggs Green Onion Butter Lettuce Avocados  White Onion Tomato Salt Pepper Garlic clove Majestic Garlic's Jalepeno Garlic Spread (Optional) Make sure your shrimp are peeled, de-veined and clean! Make an egg and almond milk binding concoction with a few eggs and a splash of almond milk. Take the raw shrimp and dunk in the egg mixture then dredge in...
---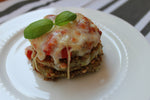 Feeling slightly indulgent? This recipe is sure to satisfy your craving for a savory Italian meal, without the carbs! Let's start with your grocery list... Ingredients Italian Nut Crumbs EggplantEggsAlmond milk (or whole milk)Marinara sauce (whichever kind you fancy!)Parmigiana cheeseMozzarella cheeseFresh basilExtra Virgin Olive OilKosher Salt To start off this fabulous dish, you will want to peel and slice your eggplant. Some people prefer to leave the skin on the eggplant, which is totally fine, its up to you! Sometimes the skin can get chewy, which is why we choose to peel it off. Once your eggplant is sliced, you...