Nut Crumbs

Tags:

appetizer, buffalo, casserole, chicken, classic, comfort food, gluten-free, healthy, keto, keto paleo, low carb, Ranch Nut Crumbs, recipes, side dish, spicy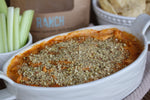 Holy Moly. This dip is unlike any other. It's everything you want to dunk whatever vessel you have into. Creamy, spicy, tangy, and beyond delicious! It's also really easy, keto-friendly, and gluten free!
---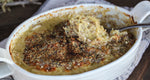 This keto-friendly version of the classic Mac N Cheese with a ranch twist + bacon is absolutely insane. It's the kind of cheesiness dreams are made of.
---
Nut Crumbs

Tags:

appetizer, chicken, Chicken Nuggets, comfort food, dinner, gluten-free, healthy, keto, low carb, lunch, paleo, primal, Ranch Nut Crumbs, recipes, savory, side dish, whole30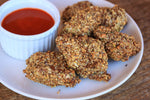 Oh My Goodness...these are YUMMY! It's like eating Cool Ranch flavored chicken nuggets...but without all the junk! This recipe was made with our Ranch Nut Crumbs ~ a nut-based bread crumb alternative. They are gluten-free, paleo, Keto-friendly, vegan, and delicious! To purchase a bag click here.